the power of imagination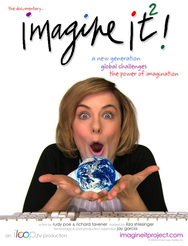 Richard Tavener, Executive Producer. Rudy Poe, Director
"The Power of Imagination" is about connecting imagination and creativity with science and engineering in education. The 52-minute film is designed provide a forum for discussion around the power of big ideas in action and to inspire people to imagine a better world, to unleash their creativity and then take action to solve global challenges.

In the film, there is a chorus of voices joining a movement to get creative thinking and the arts back into schools and connect those with science and engineering. Imagine it! helps the public have a better understanding of why and how the arts, creativity and imagination inspires the next generation of innovators.

The film reports on the promise of a new youth culture engaging their curiosity to change the world.

Below is a preview of imagine it! 2 The Power of Imagination.

---
imagine it! Post it Notes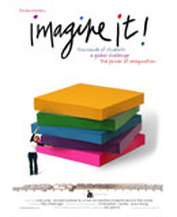 Richard Tavener, Executive Producer. Rudy Poe, Director

What if you gave thousands of students a common household object and challenged them to create as much value as possible?

As part of Stanford University's entrepreneurship week, Stanford Technology Ventures Program and the imagine it! project invited hundreds of universities and thousands of students from around the world to participate in a global challenge. The challenge? Add value to a pack of Post-it Notes...in just six days!

Student teams from North America, Europe, Asia, Australia and Latin America surprised everyone with what they accomplished. The students lifted spirits, opened minds, raised awareness, raised money, donated to charity, educated kids, promoted health, talked politics and created music.
By harnessing the power of online collaboration, imagine it! shares the students' stories of what they did by collecting digital media created by the students themselves. Additional perspectives are from competition officials, university professors, celebrated authors from around the world. Cast: Iliza Shlesinger, winner, NBC's Last Comic Standing. Below is a preview of imagine it! Post it Notes

---
thought leaders multimedia library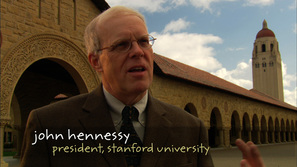 Richard's interviews with successful people--entrepreneurs, scientists, artists, engineers, professors, authors and many others--are contained in the creativity and innovation "Thought Leaders Library." Clips from the multimedia library are used to build awareness about the importance of imagination and creative thinking and its role in ensuring a brighter future for society and the economy.

The media library is also used throughout the education and corporate curriculum of "Imagine It! Project" to illustrate critical principles of creative thinking and introduce participants to positive role models.

Photo: Stanford University president, Dr. John Hennessy during interview with Richard Tavener, the Imagine it! Project.


---
Mr. K: A Common Man with Uncommon Vision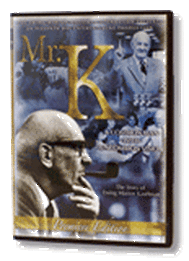 Richard Tavener, Executive Producer. Rudy Poe, Director
This film biography captures Ewing Kauffman's unconventional approach to life as a great American entrepreneur, Major League Baseball team owner, and philanthropist. His remarkable story unfolds through a tapestry of historic footage, memorabilia, home movies, and photos. The visuals are blended with present-day interviews with Marion Laboratories associates, Foundation leaders and others – including Kansas City Royals stars George Brett and Frank White – along with stylized recreations and memorable baseball highlights. The film is hosted and narrated by Academy Award-winning actor and Kansas City native Chris Cooper.

At the heart of the award-winning film is Mr. Kauffman himself. By using material culled from interviews conducted shortly before his death, the documentary is imbued with the spirit of a man whose intellect, imagination, competitive nature, and instinct for the future enriched the lives of others and cast an enduring legacy in Kansas City and across America.

The film has won two Emmy awards as well as CINE Golden Eagle Award, the International Film Festival Award, and Telly Award.


---
the American Dream

Broadcasting nationally on radio and the internet, Richard hosted "Living the American Dream," an audio and video webcast featuring the stories of successful people throughout the US and Canada. Richard has interviewed over 2,500 visionaries where each share their story of imagination, risk and reward. The show uncovers what inspires people, where their ideas come from and what motivates them into action.

Richard interviewed thousands of people over the years—from Jerry Yang, co-founder of Yahoo! to Francis Ford Coppola, the author Stephen R. Covey, astronaut Sally Ride and Ed Catmull, president, Pixar Animation; from the bookstore owner to the auto parts supplier across town. Tavener has talked with, and learned from, hundreds people who all had one thing in common: imagination in action.

Photo: Inside broadcast studios for Living the American Dream.

---